Static Testing Machine-Tension & Torsion
Static tension-torsion tester is used for static testing of medical devices and materials. The test of tension, compression and torsion can be carried out separately, and the combined loading test can also be carried out.
At the same time, the static tension-torsion tester enables the tester to complete the self-attack performance test of the screw according to ASTM F543.
Electric drive control, no need for hydraulic and pneumatic air supply.
Logic Control, precise frequency control and phase control.
Wide range of applications to meet the testing needs of a variety of materials
High Precision Force, Displacement, Torque and Angle Sensors
The structure is exquisite and beautiful, which saves space to the greatest extent.
High stiffness frame
Actuating mechanism integrating tension, compression and torsion
Various accessories are available
Tracking and recording the whole process of the test.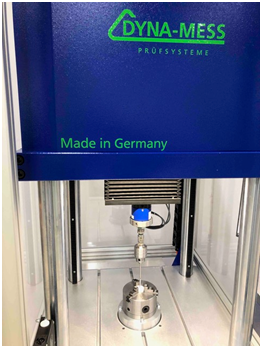 Technical parameter
| | | | | | |
| --- | --- | --- | --- | --- | --- |
| | V4E 5/25 LCF | V4E 10/20 LCF | V4E 10/50 LCF | V4E 20/20 LCF | V4E 20/50 LCF |
|    Load | 5KN/25Nm | 10KN/20Nm | 10KN/50Nm | 20KN/20Nm | 20KN/50Nm |
|    Stroke | 100mm/360° | 300mm/360° | 300mm/360° | 300mm/360° | 300mm/360° |
|    Speed | 250mm/s | X | X | X | X |